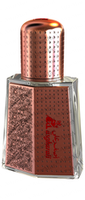 Attar Mist is pleased to announce a new set of perfume oils from Asgharali of Bahrain. Asgharali are well known in the UAE for their high end quality perfumes. Now you too can try them out for yourself.
Every perfume has its special charm but the classic scent of Rose is a timeless beauty that is loved by everyone. "Ward", created by Asgharali is a soft floral rose scent that makes a lovely presence. It is a beautiful spring and summer scent that smells incredible in the heat.
Ward comes in a pretty bottle with copper design cap and packed in a soft inset box. It makes a perfect gift that will be loved.